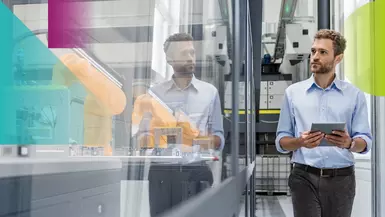 Different locations and partners, different standards and technology interfaces: a security software for industry has to satisfy many requirements. It must ensure the best possible protection of all data and it must adapt flexibly, to the specific requirements of companies. This is exactly what distinguishes the Secure Access Hub from Airlock.
Because nowadays, intelligent security is flexible security.
A good digital security solution can do both: reliably protect industrial companies from data theft and unauthorised access whilst actively involving different employees, production sites and customers in manufacturing processes. That is the central feature of powerful security software: It is secure against attacks, but easily accessible for authorized access– one of the many reasons Airlock is the preferred security solution for many industrial customers.
Agile B2B and B2C communications
Airlock allows you to integrate multiple stakeholders, different processes and IT environments into a single security ecosystem. But this ability for networking requires very powerful protection against attacks from the outside, for example, in securing programmes, interfaces and important industrial secrets of companies. This protection is guaranteed by Airlock: an independent Swiss product that is free of backdoors and reliably blocks hacker attacks with upstream application protection.
The complete and coherent solution with Airlock WAF, API Gateway and Airlock IAM allows companies to benefit from user-friendly and flexible access management. Another plus: with intelligent functions, such as user self-services, industrial companies can drastically reduce operating costs and one-time authentication processes, whilst Single Sign-On significantly increases the user-friendliness of platforms.
Securing the Internet of Things
"The 'S' in IOT stands for Security": This well-known proverb unfortunately contains more than just a grain of truth, because in the Internet of Things (IOT) the "s" for security is actually hardly considered. Airlock is changing this, because the Secure Access Hub offers a series of mechanisms that reliably close the security gap between Things and Cloud Services.
The Airlock API Gateway protects central services from attacks, even if connected devices are compromised. Airlock can also enforce secure access management between 'things' and various services. Transport Layer Security (TLS) is global best practice and should also become the standard for IOT connections. Airlock simplifies certificate management to ensure that up-to-date and secure cipher suites are always in place. The integrated Airlock reporting also provides real-time information on the use of Things and Services.
Protection of standard solutions
Central ERP systems such as SAP, information portals for suppliers and customers, e-commerce platforms and communication applications, such as SharePoint, Outlook or Office 365, are increasingly accessed from the Internet. These connections must be secured, not only on the content level but also through consistent access management. Here, the Secure Access Hub offers all the necessary protective measures including predefined templates for the protection of Microsoft applications.
High availability
The attack on services can lead to serious outages or even production downtime. Airlock reliably prevents failures and their effects on load balancing and failover. Another advantage: thanks to clustering, Airlock itself is robustly protected against failures. This guarantees a zero-downtime operation, which means updates and configuration changes can be rolled out even during operation.
References for industry
Migros
Central SAP portal for suppliers with single sign-on
The aim here was for the SAP portal to allow Migros suppliers to access Supplier Replenishment in SAP.
Ready for excellent IT security?
Contact us now.
Ergon Informatik AG
+41 44 268 87 00
Ergon Informatik AG