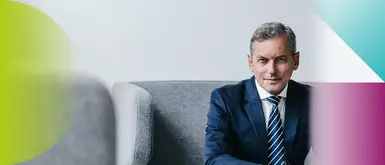 Open Banking and Fintech-Integration
Open Banking, fintech integration and the innovative transformation of traditional business: digitisation is presenting banks with a host of great opportunities. Airlock offers the decisive advantage thanks to excellent user experience and fully integrated Open Banking standards. But where there are opportunities, there are risks in compliance, data protection and IT security. Thanks to its cutting-edge technology, Airlock protects against these threats. With 250 active banking customers in over 20 countries, we have a deep understanding of the sector's requirements and challenges.
Open banking and fintech integrationcollaborating for success
Banks are actively taking advantage of the opportunities offered by digitisation and making ongoing improvements to their digital channels to provide their customers with even better service. Here, they are looking to strike a balance between a straightforward user experience and the highest levels of security for new user journeys.
Implementing open banking, integrating fintech products and setting up new customer portals all require intelligent features that will impress not just the banks but their partners and clients as well with respect to convenience, user experience and access management.
With Airlock, Swisscard implements digital customer journeys in a flexible and secure manner. Together, we create a unique customer experience for private customers, companies and retailers.
Marco Bazzani, CIO of Swisscard AECS GmbH, a leading card company owned by Credit Suisse and American Express. Swisscard is the only company in Switzerland to offer the world's most important card brands American Express, Mastercard and Visa from a single source.
Excellent user experience
Today's customers are more demanding than ever. They expect a seamless user experience throughout their online banking journey – including authentication, master data management and uncomplicated user self-service features. Here, Airlock offers an impressive array of sophisticated functions, such as single sign-on processes, which ensure that customers can switch between different services without multiple logins; or smart, risk-based, multi-factor authentication, which meets a wide range of needs. Furthermore, intelligent online services prevent helpdesks from being swamped with unnecessary enquiries. This ensures banks minimise costs and target investments at service-excellence where it will really make a difference to their customers.
Banks as service hubs for fintechs
Banks can count on the trust of their customers – and they can build on this trust, provided they have stable foundations like the Secure Access Hub. With its intelligent, all-in-one solution, Airlock can support banks as they transform themselves into service hubs – even as they expand beyond their core banking business. Banks can become service aggregators and bring genuine value to their customers by positioning themselves as intermediaries for fintech organisations. To ensure success, financial institutions must focus on the essentials: the rapid development of new services, tools and platforms. Thanks to Airlock, these services can be launched with a shorter time to market and third-party providers can be efficiently integrated.
API Gateway
Compliance for open banking
Today security in banking always implies compliance with internal and legal regulations and this is an area of particular strength for Airlock. With its comprehensive access management functionality, the federation standards it supports and its integrated API protection, Airlock creates ideal conditions for simple and comprehensive PSD2 compliance. Moreover, specific components of PSD2 standards (such as NextGenPSD2 or STET) are already integrated into the secure access hub. Additional functionality, such as consent management, also ensures that DSGVO requirements are more easily met.
The de facto standard in online banking
The banking business is based on trust and the best way for financial institutions to safeguard this valuable asset is by deploying the de facto standard for security in online banking software for more than 15 years. The reason for this success? In addition to its flexibility and maximum security, Airlock is highly cost-effective and features a comprehensive range of add-ons. IT security, too, is a trust-based business.
Our banking partner
We cooperate with many leading digital banking solution providers , for example:
Avaloq
Crealogix
Finnova
Temenos
Our whitepapers on banking
Open Banking Implementation
With the adoption of the PSD2 regulation into national law of EU countries in January 2018, the race was on to undertake the technical implementation of the open banking standards ready for the 2019 deadline. In this whitepaper you will leran what PSD2 is about and what the outcomes are.
API Security
Open banking has become a strategic priority for many financial institutions (FIs) and wealth managers. Local regulation, clients' demand for superior customer experience and the strive for more flexibility are forcing banks to open their platforms to the outside world. This whitepaper highlights the external threats to an open banking ecosystem and how to address them.
Airlock 2FA
The two-factor authentication (2FA, MFA or SCA for short) in the area of IT security offers double the security. In combination with efficient customer identity & access management (cIAM), numerous processes are significantly simplified. Find out more about strong authentication and the possibilities that Airlock offers in our whitepaper.
Ready for excellent IT security?
Contact us now.
Ergon Informatik AG
+41 44 268 87 00
Ergon Informatik AG