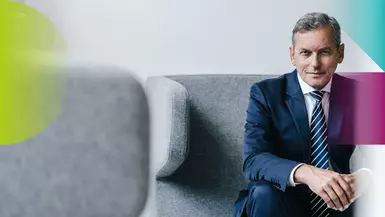 Raiffeisen Switzerland
for user-friendly access and good scalability
Raiffeisen Switzerland relies on central security structure
In recent years, Raiffeisen has established itself as the leading retail banking group and the third-largest cooperative bank in Switzerland. Customer proximity is one of the most important reasons for this success and Raiffeisen now has about 1.9 million cooperative members. More than one million customers also use online banking. Above all, they value customer proximity, sympathy and trustworthiness. In order to guarantee this in the long term, the e-banking system must be fast, efficient and, above all, secure.
Raiffeisen Switzerland's previous system reached its limits in terms of efficiency and, above all, user-friendliness: When implementing new web applications, the group faced the challenge of having to set up a new login page each time. As a result, customers had to create and, above all, remember a lot of access data with different user names and complex passwords.
Holistic protection thanks to Secure Access Hub
The solution to these requirements was an upstream security platform. With the integrated IAM system, administrators have the technology in place to manage users' access permissions and requirements. In contrast to a classic IAM solution, such a system is not directed inwards but outwards and is designed for a larger number of digital identities.
Another important element of this overall package is the integrated Web Application Firewall (WAF), because classic network firewalls do not protect against attacks at the application level.
Only the combination of upstream WAF, outward-facing IAM and a higher-level authentication platform takes the wind out of attackers' sails and protects applications from the well-known Open Web Application Security Project (OWASP) Top 10 threats.
Ready for excellent IT security?
Contact us now.
Ergon Informatik AG
+41 44 268 87 00
Ergon Informatik AG
Accelerate digitisation
In order to stay technically viable in this digital transformation, companies must increasingly switch to hybrid cloud environments so that their data, applications and services are available from anywhere in the world and around the clock. This in turn requires new security approaches as the data and applications become more exposed and thus offer more attack surface.
Read our whitepaper in cooperation with Deloitte and our partners eperi and SHE.