Visit us and our partners eperi and SHE from 8 to 10 October at the largest IT security event in Europe, the itsa. As always, you will find us in Hall 9, Stand 403.
Also this year we have prepared many exciting topics for you. You will learn the latest news about application security, API security, access management and cloud security.
In our congress on 9 October you can learn in many further lectures how you should turn your IT security from a spoilsport to an accelerator of your digitization projects. Johannes Klostermeier, founding member of CIO Magazine, will guide you through the event. You can already look forward to an exciting keynote speech by Ellen Dankworth, Senior Manager Cyber Risk Services at Deloitte, in which he will draw a wide arc into the future of digitization and thus also of security.
We are looking forward to your visit. Register now and receive your free ticket.
itsa congress:
IT-Security - from a spoilsport to an accelerator of digitization.
General information about the congress
Digitisation projects are in a demanding area of conflict. Because agility, opening up to the outside world and fast time-to-market, which are demanded by business development, seem to contradict the requirements of IT security, which relies on control and security. Our joint congress will explain how security can also become an accelerator in cloud environments. The event will be hosted by Johannes Klostermeier, founding member of CIO Magazine and freelance journalist. In the keynote speech by Ellen Dankworth, Senior Manager Cyber Risk Services at Deloitte, we will draw a large arc into the future about the requirements of digitization with its parameters of cloud, user-friendliness, fast time-to-market and security.
The entire lecture program will be held twice to give you more flexibility in combination with your visit to the fair: once at 9:30 am and once at 2:30 pm.
Agenda of the Congress
The Event will be Held in German langauge
09:30 oder 14:30
Eröffnung und Moderation durch Johannes Klostermeier, Gründungsmitglied des CIO Magazins und freier Journalist
09:35 oder 14:35
Keynote Digitalisierung – Cloud Security: Chance und Herausforderung zugleich, Ellen Dankworth,

Senior Manager | CISSP | TOGAF® 9 Certified | Cyber Risk Services Deloitte GmbH

09:55 oder 14:55
Cloud, aber sicher! Security-Herausforderungen in hybriden Szenarien meistern, Marc Buchmann, Leiter Delivery / Prokurist, SHE

IT-Security-Konzepte & Lösungen für verteilte Cloud-Szenarien
Ausdehnen der Schutzmaßnahmen auf public & private Cloud
Neue Aspekte, die sich aus der Umsetzung von Digitalisierungsvorhaben ergeben

10:15 oder 15:15
IT - Security – Vom Spielverderber zum Beschleuniger der Digitalisierung, Dr. Martin Burkhart, Head of Product Management, Airlock

Welche Schutzfunktionen brauchen Applikationen und APIs?
Welche Synergien ergeben sich aus einer integrierten Lösung?
Wie können diese Synergien die Digitalisierung beschleunigen anstatt sie zu verhindern?

10:35 oder 15:35
Pause
11:00 oder 16:00
Nur mit Verschlüsselung gibt es Sicherheit in der Cloud! Der einzige Weg, um rechtliche Anforderungen zu erfüllen, Elmar Eperiesi-Beck, CEO und Gründer, eperi GmbH
Die Nutzung der Cloud ist nicht mehr wegzudenken:

Angriffe nehmen immer mehr zu und können kaum präventiv gestoppt werden
Schutz bietet Verschlüsselung, damit der Angreifer nichts mit den Daten anfangen können
Verschlüsselung ermöglicht die Speicherung von Daten in internationalen Cloud-Umgebungen, ohne Datenschutz- und Compliance-Vorgaben zu brechen, gesetzeskonform zu sein

11:20 oder 16:20
Panel Diskussion mit Johannes Klostermeier, Gründungsmitglied CIO Magazin
11:50 oder 16:50
offizielles Ende
Location
The event will take place as part of the itsa Congress and will be held in the Dublin area of NCC West on Level 2.
From the entrance of the NCC Mitte you first have to go to level 1, from there you can pass the Frankenhalle and reach the NCC West. In NCC West there is an escalator leading to level 2.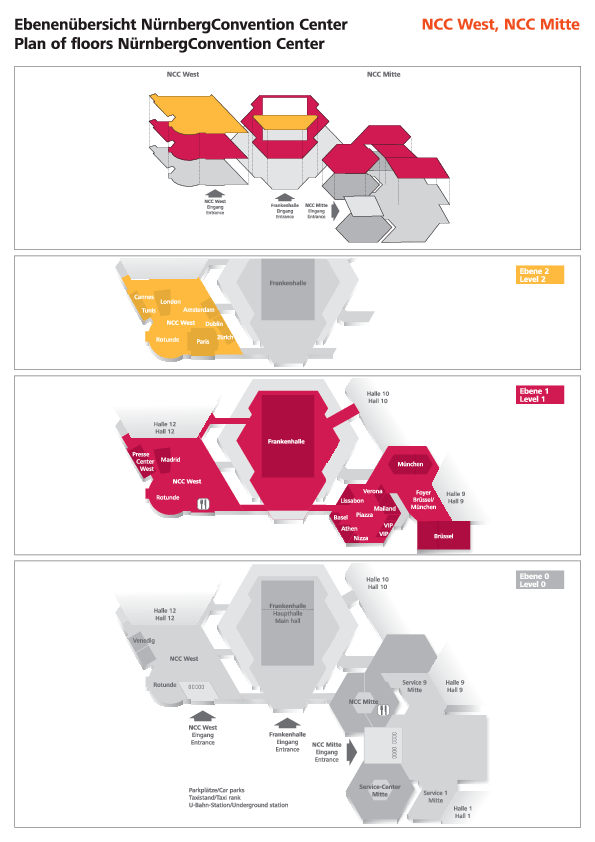 Tickets, registration for congress or arranging an appointment, you have the choice